Welcome to Merle Maple
Making life sweeter one step at a time

We are a small business located in Attica, New York offering a wide variety of maple products made on premises. We take pride in producing a high class product that is sure to make anyone smile anytime of the year. Shop our large selection of products on our online store or stop by our store located at 1884 Route 98 (Creek Road) in Attica.
The Merle family immigrated from Germany in 1844. In 1923, they purchased a farm on a hill in the town of Attica. The farm was lost during the Great Depression and then the family purchased a farm in the valley. Lyle says that was a good thing since sap runs down hill.
Arthur, Lyle's dad, started carrying pails of sap when he was five years old and continued in the maple business for the next 74 years!! Arthur married Florence in 1940 and together they raised five children and operated the farm. Over the years, the Merle family was recognized as one of the innovators in farming. – we were the first one to use a bulk tank for milk instead of milk cans, had the first Harvestor silo in the area, and ran the biggest chicken operation in Wyoming County.
In 1958, the maple operation made the change from hanging buckets to using tubing. The business has grown over the years from its 1,200 buckets on trees to today's 20,000 taps all on tubing. We were the first in the area to use a steam-away on their evaporator. Our average crop of syrup each year is around 9,000 gallons.
Along with bottling many sizes of pure maple syrup in all four table grades, Merle Maple LLC has a NYS Ag & Markets licensed kitchen where a variety of pure maple products and maple syrup based products are made. Follow us on Facebook to see what's next!
The business is run by four partners – Lyle & Dottie Merle, Eileen Downs and Kristina Copeland. Our vision is to continue to improve the forests we are tapping, continuing to keep current with advancements made in the production of maple syrup, and for the business to continue for many years to come.
The Merles
Merle Maple Fundraising
We are always looking for ways to help our community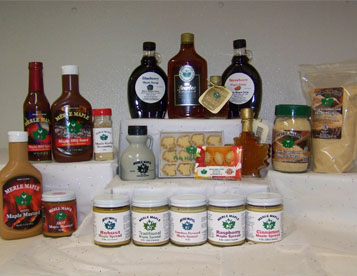 Are you looking to raise money for your organization? We are interested in working with you on a fundraiser for your group. We normally deliver wholesale orders with-in a 100-mile radius of Attica at no charge. We need two weeks lead time from when you place your order for us to have it ready to go.
Wedding Favors
Merle Maple is there for you on your big day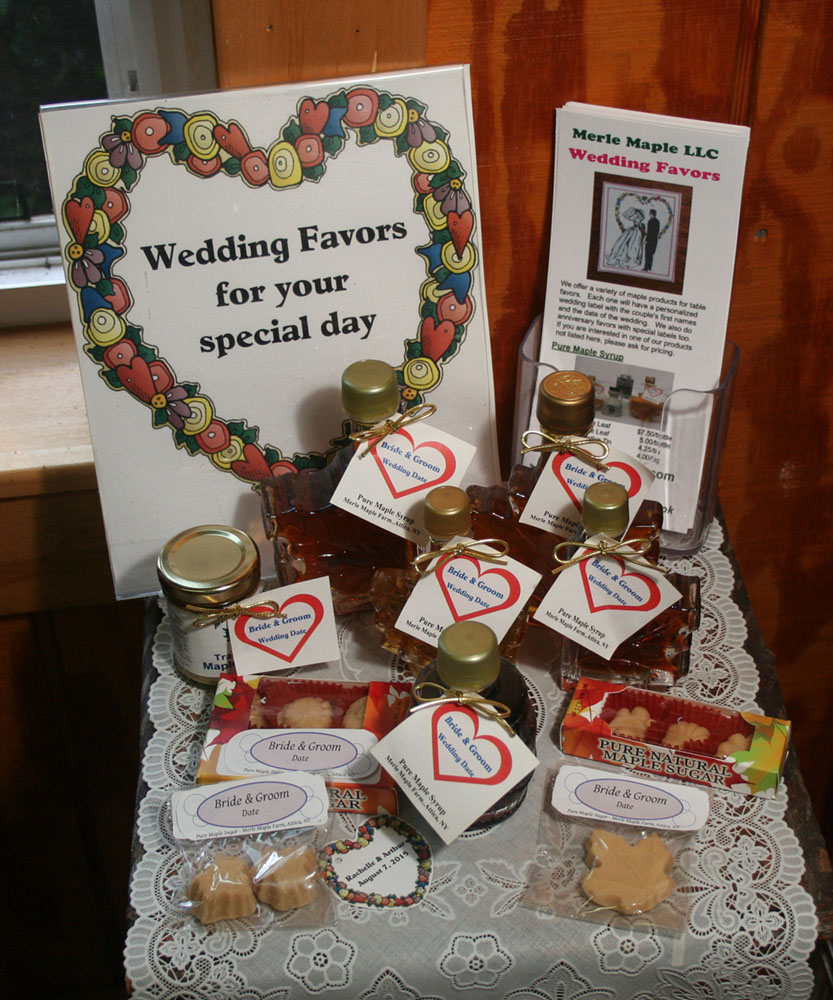 Sweeten Your Day!
Send your guests home with a sweet treat from Merle Maple.

We offer discounts when ordering for your special day. We offer pieces of maple sugar, glass containers of maple syrup, or something customized to meet your wants and needs.
While traveling home we stopped off at a rest area and I happened to see maple coated dogs biscuits. Sorry I only got one bag of 4 biscuits...my dogs LOVE them. I definitely will be buying more online.

Jill Buckley

Very friendly staff. The tractor ride was great and very interesting learning about how to make maple syrup. Lots of samples to taste! It was a good time. Even in the cold!

Grace Cline

Can't say enough about the wonderful day we had visiting your farm. My grandsons (4&7) can't wait to come back again next year. For them, the wagon ride was the greatest. I'm in love with the hot sauce! You are all so very sweet, thank you...

Melanie Sadowski

A family run business that has words like honesty, integrity and quality as their hallmarks. They bring back things like customer service and value to daily life and are truly a joy to deal with. As a food allergy sufferers I appreciate the fact that I can trust what they say and that if they don't know they'll find out- the quality and purity of their finished product ensure that if they say I will not have a problem— I truly won't. If you visit their fa during maple weekend- you'll find their hospitality and warmth to be second to none.

Andi Andrzejewski

Had a great time learning about how maple is made, great staff, large amount of free samples...Just had to buy the maple flavored hot dogs, ice cream and pulled pork! Fourteen of us ventured out on a dreary day, for our first visit, had a 'sweet' time...all ages enjoyed it! Planning on going back!

Linda Chadwell

great customer service, food is delicious, lots of samples..we go every year for maple weekend, lots of fun

Lynn Hansen

Stopped there 3-23 opening day maple weekend, everyone was super friendly and helpful! Plenty of samples of all products. Besides buying syrup we bought the hot mustard and hot sauce. Just saying, made thick cut bacon covered in their hot sauce......AMAZING!

Gregory Reillo

We loved it and so did the kids! We ate so many slices of bread with maple cream I should've just bought the whole loaf. The maple hot dog with hot maple mustard is a must try and I grilled steaks last night with the maple garlic seasoning. So good I had to share my jar with my mother in law and sister in law.

Francesca Rieman

I cannot express enough how much of a wonderful time we had with our family yesterday! Ever step of the way someone greeted us with kindness and you could truly see the passion this family has for this farm.
The samples of all the different maple products were so good it was hard not to buy the entire shop out!!
We will definitely be back again!!

Shannon Allgrim

Great place to visit with great treats to enjoy! Love the maple cotton candy in a tub, as it keeps it fresher longer.
The canned maple syrup is perfectly sized for gift giving, and storing if you don't have a lot of room in your refrigerator.
Looking forward to visiting again!

Laura Schueler

Merle Maple Farm is a wonderful place to visit. The maple popcorn and maple cotton candy is amazing, just heavenly!! My 8 year old said it is so good, it should be illegal! Visiting Merle Maple Farm during maple festival weekend will be our new famly tradition! Thank you!

Wendy Nagel

Great folks,wonderful products,did I mention great people.

Cyndi Marvin
Featured Products
See what is most popular among our visitors!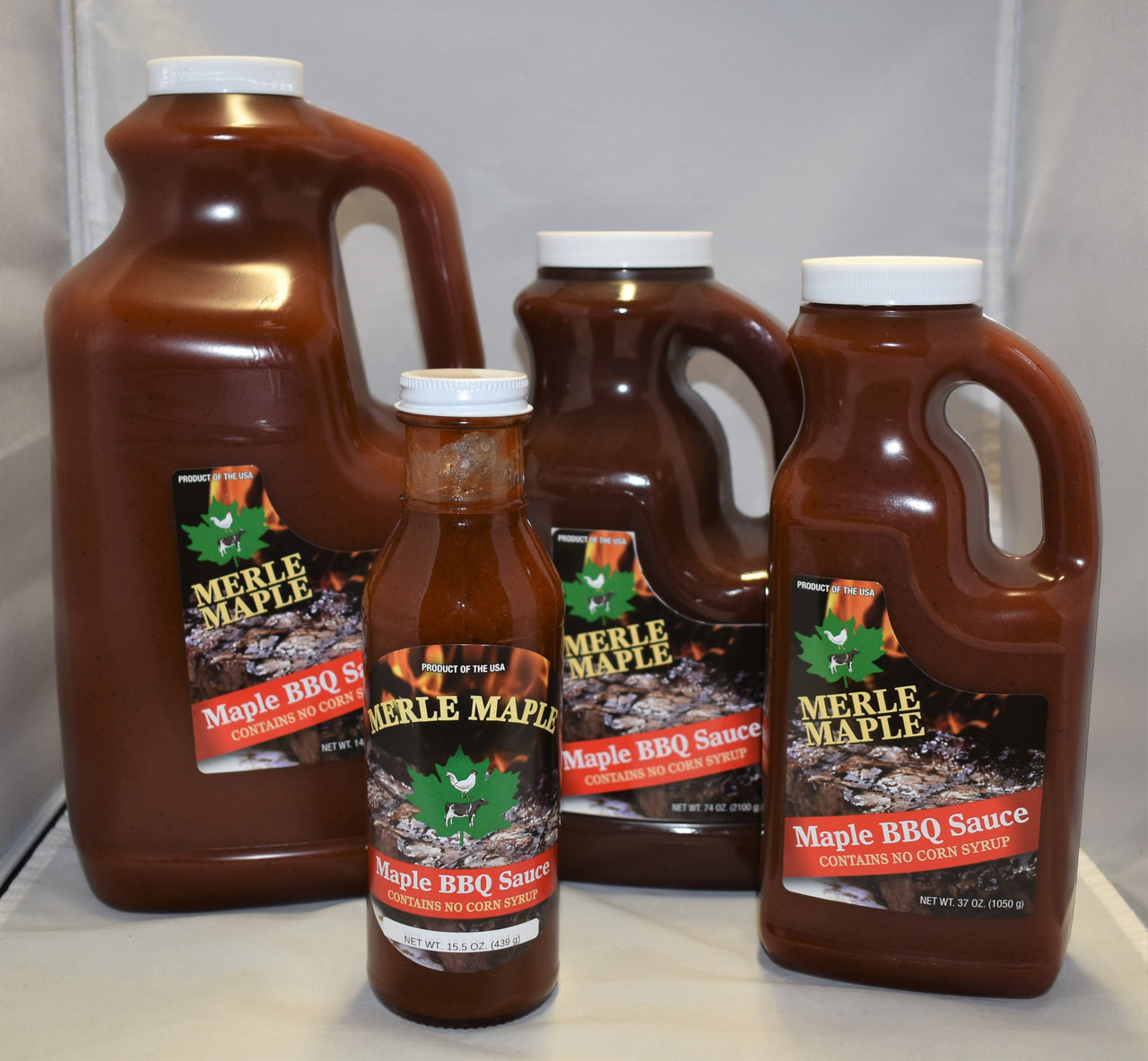 Maple BBQ Sauce

Our Maple BBQ Sauce contains NO corn syrup. Use on beef, pork, chicken, turkey – or as a condiment in place of ketchup or mustard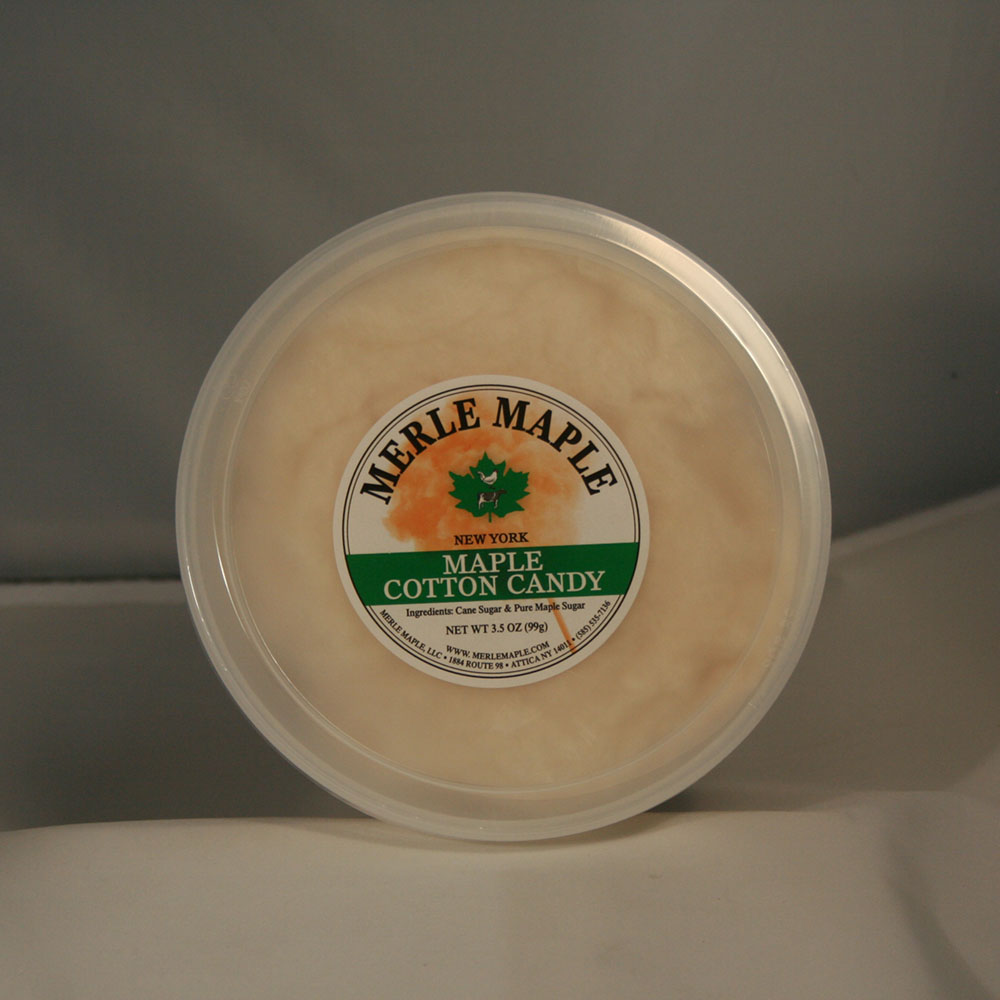 Maple Cotton Candy

Our granulated maple sugar mixed with white sugar heated and spun into a delicious treat for any occasion! Enjoy in a tub for longer lasting freshness.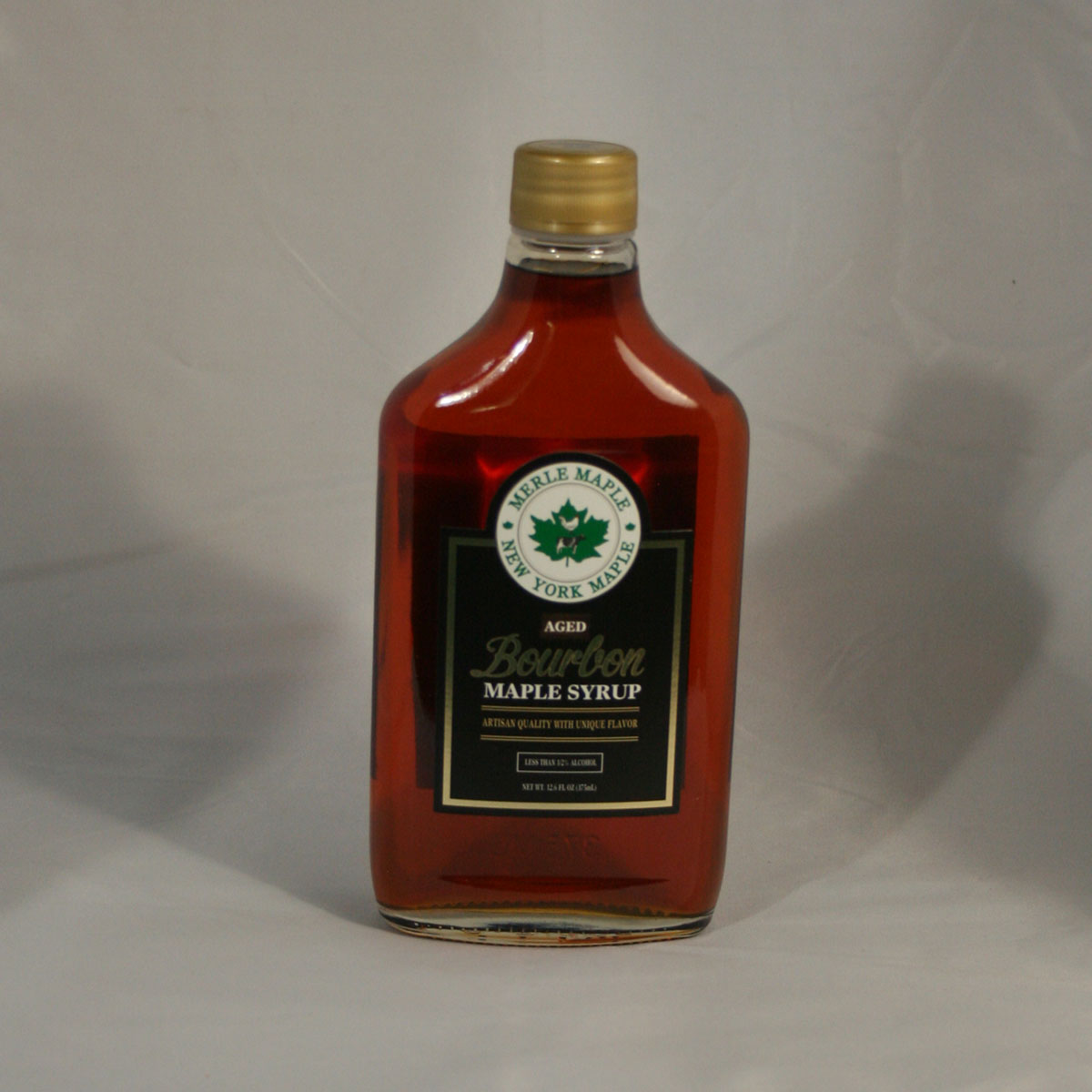 Aged Bourbon Maple Syrup

100% pure maple syrup aged in bourbon barrels then bottled. Delicious to cook with, use on pancakes or enjoy right out of the bottle!